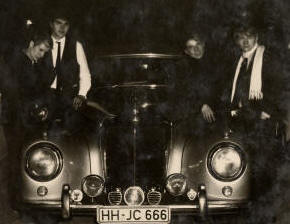 "The Rondos" and their band vehicle
Too good to be true. This lovely silver-metallic Mercedes convertible with its fenders reaching
far back to the huge doors was for sale somewhere in Hamburg at a dealer's. The car of your dreams. One night we placed ourselves in front of the car to have this shot taken. From left to right: Gerhard Pramor, Mike Safaris, Werner Hinrichs, Dieter Geike.